Like many fans, I, too, have been stressing with the Donda album rollout by Kanye West. But as someone with patience, it's easy to keep my head held high as I return to his past work and indulge in its brilliance. I've spoken about College Dropout and MBDTF in the past, and instead of treading familiar water, let's return to the dirtier pastures of Wyoming.
I remember that night vividly. I was in the early stages of my probation for marijuana and trying to find a new way to get inebriated. And like any white woman in her 50s, I turned to wine, specifically white zinfandel. The listening party was a vivid and comforting experience. You saw people from all walks of life (creatively) in their hoodies and jeans, smoking blunts around a fire. The last time an experience felt like this, was ironically, a time when Jason Kidd signed my New Jersey Nets baseball cap at a game in 2006. I could go on being faux about how this album made me realize I was constantly looking for external means to satisfy my happiness. It didn't. But it made me realize that Ye was far more than the ecstatic crowd made it seem.
A little over three years have passed since the release of 2018 Ye and the seminal live stream release. And I'm left wondering how this critically loved album saw Kanye West at his bleakest, leaving minimal impact on the context. Unlike most Kanye West albums, Ye embraces its dark overtures with rampant drum patterns and moody tones. At this point, we knew he was bipolar and isn't trying much to fix it. And his stubbornness was a known personality trait. However, the public wasn't aware of why he kept himself away from help. He answers this on the album, while adding layers to the WHY?
Understand that this is my dissection of themes and lyrics of Ye concerning his mental health in 2018.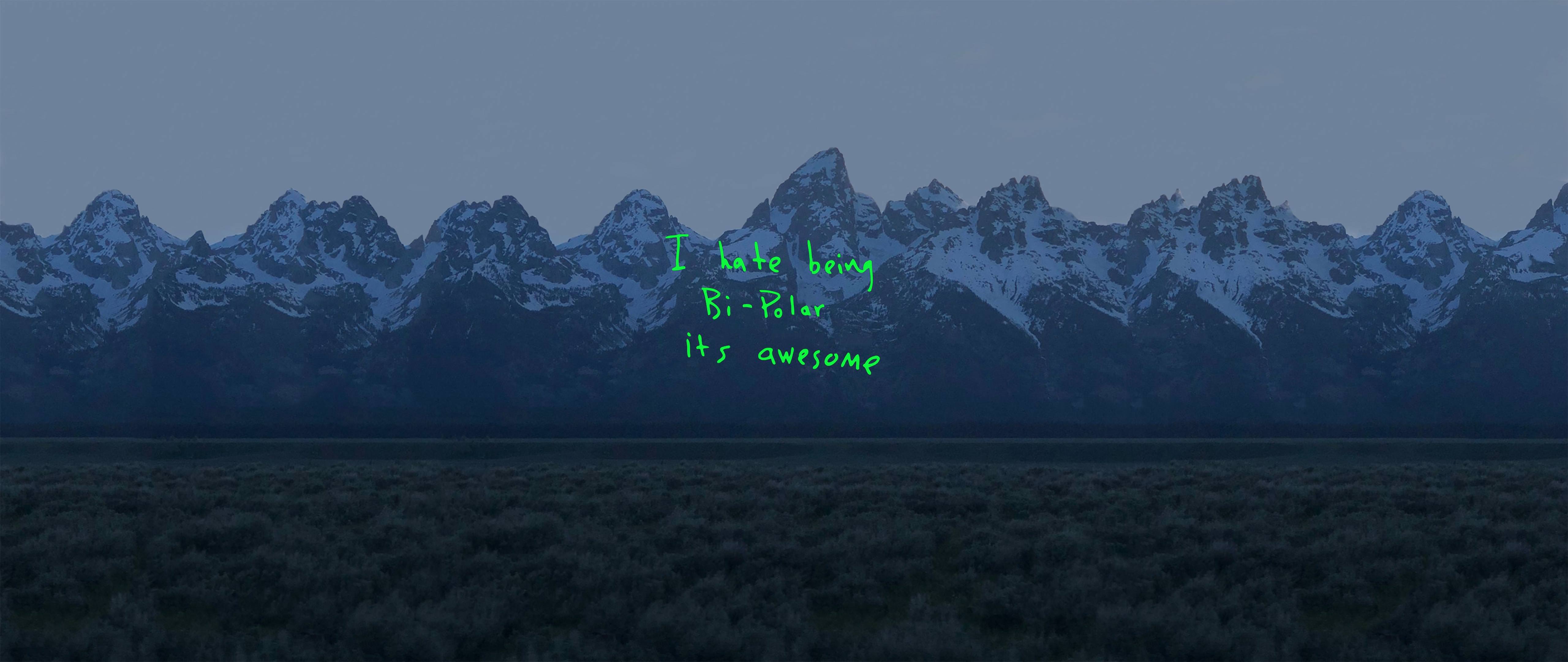 Ye opens with "I Thought About Killing You," a perplexing duality of man, where Kanye's shadow comes out to play and interjecting himself in many of Kanye's moments in life. His mind is closed off from true happiness, reeling in the now instead of fixing the burgeoning weight on his shoulders. It opens to floodgates for an album composed in a state of crisis, switching between heightened emotions and gleamingly haunting vocal performances.
Kanye West refers to himself in the third person, seemingly contrasting his open-face persona, adamant about one's authenticity, despite the cost. His waning mental health saw him finding new avenues to explore. If you take the concept of the devil and the angel on your shoulder with Kanye's last two albums, then Ye spoke his true nature: distant and distorted, while JIK reminded us of his footing in front of religion. "I Thought About Killing You" opens with a spoken word poem with an eerie parallel to the shoulder concept. His shadow is composed of every negative thought and purported energy from Kanye's life. And due to these thoughts, the shadow decided that Kanye should kill himself for the better.
"The most beautiful thoughts are always beside the darkest

Today, I seriously thought about killing you

I contemplated, premeditated murder"

– I Thought About Killing You.
With this constant battle between minds, Kanye fights with logic. Since he's bipolar, one side of him loves himself, and another side wants to die, but he has been adamant, in the past, about not seeking help. And the more a mental illness goes untreated, the more unstable the person can get. And Kanye expresses that instability throughout the album. So as Kanye nears the end of his poem, he breaks down underlying issues that contribute to this, like his innate focus on a consistent opinion and relation to others to compensate for his insecurities.*
*He fleshes this out on "No Mistakes," which explores other reasons behind his depression, like his financial debt and inherent arrogance. We know this from his broad stance on advice, specifically people less successful than him.
"Yikes" builds upon his personality, particularly his bipolar nature and addiction. At the end of "I Thought About Killing You," Kanye claims that the public wants to him go ape. And he does it as a contrast to the chorus and last verse, which expresses the potential frights from being addicted to opioids. It is part of Kanye's struggle with the idea of drugs, meaning: doing these drugs can get frightening, but it has me feeling relaxed at my apex. In the first verse, Kanye raps:
"I done died and lived again on DMT, huh

See, this a type of high that won't come down

This the type of high that get you gunned down

Yeezy, Yeezy trollin' OD, huh

Turn TMZ to Smack DVD, huh"

– Yikes
Kanye is saying that his drug use became a reflection of himself, using what people thought of him after his infamous TMZ appearance, where he proclaimed slavery was a choice. And in the second verse, Kanye takes us back to 2016. During a stop on the Life of Pablo Tour, he fainted from exhaustion and stress. He awoke in a hospital feeling loose from the drugs, and he describes a feeling like he is on top of the world.
"Ayy, hospital band a hundred bands, fuck a watch

Hundred grand'll make your best friends turn to opps

I hear y'all bringin' my name up a lot

Guess I just turned the clout game up a notch

See, y'all really shocked, but I'm really not"

– Yikes
As someone who had a slight itch for opioids, this feeling can get addicting. However, for me, it was the euphoric high that made me feel happier and relaxed. It disoriented my reality, and I became a shell of my former self, similar to Kanye after getting sober. So it doesn't surprise me that these visions of grandiose and greatness warped his mind and making him feel like a young, arrogant rockstar. Within this zone, he mentions his name's popularity in the news. He attributes it to his name and his increasing clout, but that isn't the case. It's from the few controversial statements, speeches, and so forth, through most of the second half of the 2010s that he has delivered. From here, Kanye's views get distorted, and he begins to rap on his savage shit. See, his sounds have changed more than his overall character. Kanye is consistently imposing too much stress on himself because he wants to remain seen at his apex. Despite his contrasting views, the outro returns to the second verse, where Kanye feels superhuman. He ends it by saying being bipolar is like being a superhero.
Kanye doesn't consider being bipolar a deterrent, and instead, he thinks it is an effective tool to his success. This unique mindset can be great, but as fictional media has shown, superheroes attract more destruction than peace. He is fully embracing his mental disease; however, it isn't for the better. Maybe it is why Kanye is adamant about this ironic proclamation:
"Niggas been tryna test my Gandhi

Just because I'm dressed like Abercrombie"

– Yikes
Whether Kanye ponders about neurological reasons behind celebrities who cheat on their significant other or describing to us what his mind is like as a musical genius with bipolar, Kanye becomes telling about his self-destructive nature. When Kanye first ventured into fashion, he received off-color confusion. He reaches for the unattainable. Kanye wants to be a revolutionary in the fashion industry, relating himself to the levels of Gandhi; however, people note his style isn't revolutionary with his Abercrombie-like ideas. So for subsequent years, it was seen as a gamble. From his erratic behavior to consistent mind changing, it is a dangerous path to proceed. Kanye reminds us of this behavior in the following song as he continues with his demeanor. He expresses his erratic behavior through random and provocative rap bars, like the obvious "none of us would be here without cum" off the song "All Mine."
"All Mine" follows "Yikes." It focuses on his carnal desires and how fighting against them has been part of fixing his self-destructive nature. He comes across as an arrogant macho who has boyish moments that can be a bit crass, like most of his public actions. But this is one of two aspects of the relationship that Kanye tries to mediate, with the other being non-sexual and more nuanced. He is coping with unwarranted happiness, as his mistakes could make anyone leave. He questions all this on the following song, "Wouldn't Leave."
Transitioning to "Wouldn't Leave," Kanye West reveals his progression as a person. Realizing his mistakes, Kanye brings to Kim acceptance of any potential divorce or separation due to his radical nature. He brings up his many mistakes, including a reference back to his slavery comment on TMZ. He shows that his mind has an issue keeping his mouth from speaking randomly, creating these altruistic controversies.
In the song "Yikes," Kanye claims that people believe he was on drugs for his controversial statement on TMZ but played off with two contrasts. However, on "Wouldn't Leave," his self-destructive personality is under a microscope as he continues to tiptoe around the truth, despite constantly telling Kim he'll change. This ranges from his money woes to becoming headline news. It's his juxtaposition to the previous song, which vindicates cheaters as Kanye humbles his loyalty. Nevertheless, this isn't the number one quality he needs to reaffirm to Kim, but with his loose behavior, this felt compelling. He is more than understanding, but it isn't levying any anxiety induced by the thoughts he mentioned he had on "Wouldn't Leave."
Kanye finds his actions harder to redeem, but seeing the tight-knit family structure built upon trust has kept him afloat. As previously mentioned in the song "No Mistakes," Kanye continues to rap about his woes, monetary and mental, that it becomes part of his identity. He is at war with his mind as Kim's reasoning to stay with him is beyond just for the kids. These thoughts are reflected in his verse, as he raps the lines:
"Just imagine if they caught me on a wild day

Now I'm on fifty blogs gettin' fifty calls

My wife callin', screamin', say we 'bout to lose it all

Had to calm her down 'cause she couldn't breathe

Told her she could leave me now, but she wouldn't leave"

– Wouldn't Leave
Everything that I've said about the songs that precede "Ghost Town" is a path toward the landscape of Kanye's mind. "Ghost Town" paints the scene; you're in a hollow place, full of buildings that contain aspects of Kanye's personality hidden behind his true self and his shadow. His verse describes contrasting ideas, which has made it hard for him to have a centered and fleshed-out conversation about his opinions without being the butt of the joke. We all think these controversial statements come from a man seeking attention or just plain nuts, and not in a clinical way. It's unfortunate, because he is speaking his truth but we don't see it and eventually, it becomes part of his shadow and allowing it to grow.
"I'm on one, two, three, four, five

No half-truths, just naked minds

Caught between space and time

This not what we had in mind

But maybe some day"

– Ghost Town
Unequivocally, Kanye has his authentic opinions, but the lack of knowledge disavows us from seeing it as such. He is constantly guilty and never innocent. His feelings are reflective of this as New Jersey singer 070 Shake delivers a two-minute solo about being a kid and feeling free. She elongates the harmony of the word free to emphasize Kanye's insecurities behind speaking his mind. He wants to feel free of these stressors and be his authentic self, but people neglecting that because it's a common occurrence for Kanye now. His mind is a Ghost Town, and this absence of thought is caused by a fear that he can't speak his truth without being the butt of the joke.
Ye ends with "Violent Crimes." After everything he has been through, Kanye understands that the goal is to be the best father for his daughters. And this song is a proclamation that he will be a shotgun father or the dad you'd have to work off an arm and a leg to receive his blessings. It isn't about being overprotective but instead a mentor. He has gone full circle. In this ongoing battle with his mind, he has a sense of clarity around family. Kanye tackles this subtly on Ye, specifically on "I Thought About Killing You." He opens the second verse of this song by claiming he made a call to his family for clarity and help.
In an ironic twist of fate, "Violent Crimes" ends with a vocal recording of Nicki Minaj re-taking a set of lines in which Kanye notes his hopes that his daughters end up like Nicki. Today, this idea is a little more taboo considering Nicki's negative baggage, like attacking victims of sexual assault as a means to protect her family. But she is married to a rapist, her brother is a known pedophile, and she supports them. When Kanye mentions he wants his daughters to be monsters, he is referring to her confidence. Nicki takes back these words by repeating them in the outro. Kanye jokingly jabs that Nicki slept around a lot, but not in poor taste as is usually the case. It's a touching focus, as he lets his daughters know about their parent's love for them.
Ye can be a lot to unpack, especially when it comes to his psyche. Throughout Ye, we saw glimpses of Kanye acting hazardous as he lets his bipolar disorder consume him and his music. One minute Kanye is contemplative and sensible; another minute, he is acting crazy off the drugs. The fears he underlines in his music speaks to many things zooming through his brain — non-deserving love, new ways to cope, trying to be on top of the world, while course-correcting past mistakes that made him a controversial topic in the media. It has created an internal conflict with himself as he is in a constant state of doubt. And his provocatively callous nature does not help him.
It's hard to make up how to feel about listening to this. One minute I'm eviscerated, sonically, as the production flourishes and Kanye's consistency makes you act buck wild, but hearing Ye is almost like a calling card. Even if Kanye doesn't seek help, you shouldn't pin yourself at the same mental tier as him. He may look strong, but not many are. On a side-note: watching Bachelor In Paradise this week, one contestant calmly said that she bottles her emotions, then followed the statement with a nervous cry-for-help chuckle. She is gorgeous and shows a lot of confidence, but like Kanye, it's hidden by not entirely real.
As you choose to listen to Ye, amongst others, as preparation for Donda next week at Soldier Field in Chicago, know that Kanye has been through a lot over the past five years. He dropped an album and pulled it back to fix wolves. His indecisive nature has taken fans through similar mental turmoil since his music is equivocal to a powerhouse Marvel film, and they live and breathe off the hype. But his music reconfirms that it's worth the wait as we don't want to see him taking a step back on finding inner peace and being a wonderful father for his children. I hope you enjoyed reading my piece on Ye, and I hope you hear and understand what Kanye has been saying, whether it is a plea for help or not.